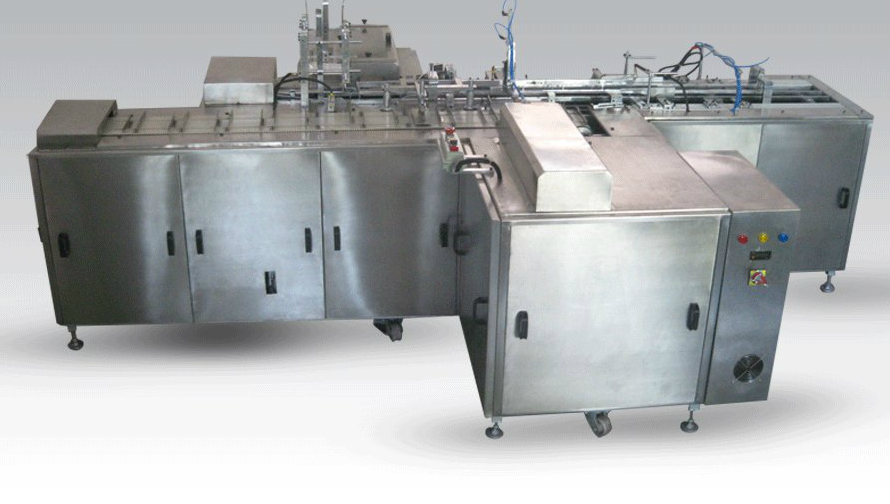 Features & Advantages
• Adjustable type carton magazine for stacking cartons.
• Cartons advancement through vacuum. Picking-up and erecting of cartons from the magazine is through a very reliable and modern system. Vacuum is produced 
   with vacuum pump and relevant buffer.
• By Pick & Place unit, the carton will be picked from carton magazine and formed carton will be placed at pocket conveyor.
• Bottles will be entered from the Labeling unit in vertical position. 
• Between Labeling unit and cartonator there is bottle dropper unit which helps to vertical poisiton bottle will tend to horizontal position. Then it will be placed at the 
  input conveyor of cartonator machine. 
• By continues motion, the bottles will be inserted into open cartons.
• By Side Folding Unit, the side flapper of carton will be closed.
• By Main Folding unit, the upper and lower flap of both side of carton will be closed. 
• If any carton will not be formed due to less vacuum, the machine will be stop immediately. 
• At exit section the bottle packed into the carton will be ready.
Total Powers
Speed
Product

10 kW

40 – 50 /min. ( Depending on the size of the carton.
Purpose of the machine: Product to be inserted into the cartons).

Hing powder bottles, custard powder/chocolate
powder bottles, juices, syrup, honey.